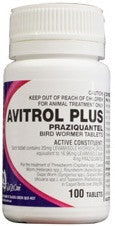 A convenient and broad spectrum bird wormer for treatment of Thread, Caecal, Round, Gape, Gizzard and Tape Worms in birds. Provides a secure method of dosing individual birds. 

Directions: Administer orally directly into the throat at the rate as follows:
250 to 500g bodyweight: 1/2 tablet
500g to 750g bodyweight: 1 tablet
750g to 1 kg: 1 1/2 tablets.
Do not feed bird for 24 hours before or three hours after treatment.

Pack size: 100 tablets

Active Constituents: Per tablet: Levamisole hydrochloride 20mg, Praziquantel 4mg.

Not to used in food producing species.

Wormer birds.


Related Products
---