Raw hemp protein blend for pets 500g
---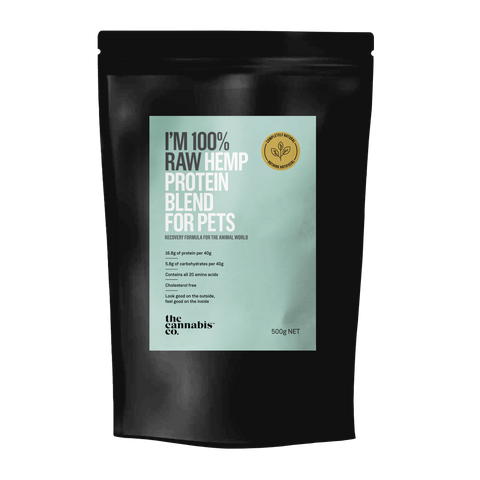 Recovery Formula for the Animal World
This blend is a recovery formula designed by our in-house vet to get your fur baby back to optimal health, fast. It's chemical free and nutrient dense - the pawfect recipe to have your pet feeling great and looking even better. 
Health Benefits 
Hemp Protein and Chickpea Flour provide a nutritious combination of of beneficial fibre, vitamins, omegas and a complex amino acid profile for excellent overall wellbeing. 
These ingredients are high in protein and abundant in photo-nutrients, but best of all, they are extremely digestible - important for recovering pets with sensitive tummies. 
Protein Blend for Pets is ideal for:
pets with whelping

adding to food to assist weight gain

recovering from surgery

preparing for breed shows and competitions

general health and wellness 
How to Use: 
Add to food every 2-3 days, mixed 1:1 with water.
Serve as a side dish, or mixed into wet food.
Small Dogs (under 10kg) - 1 scoop or less
Medium Dogs (10-20kg) - 1 scoop
Large Dogs (20kg+) - 1-2 scoops
This product has been designed to mix with water to form a paste - making it easy for pets to lick and digest. 
We've made this product to be highly 'customisable', with the option to tailor the ratios of powder, to water, to added Hemp Seed Oil, based on the results you're after. 
For pets in recovery and those experiencing anxiety or stress, we recommend adding half to one full dropper of Hemp Seed Oil for Pets to the mixture for optimal results. It's also possible to mix a higher ratio of water and administer via a syringe if necessary. 
For dogs that are preparing to be shown, just the protein blend mixed with water will serve up a delicious, high protein wellness supplement.
Related Products
---