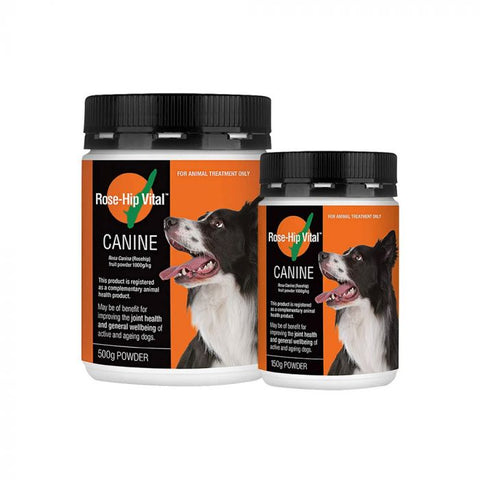 Rose-Hip Vital® Canine is a plant-based anti-inflammatory and immune system support for your dog's joint health and general wellbeing. Made from Rosehips manufactured with patented processes, Rose-Hip Vital® Canine is scientifically and clinically proven to reduce inflammation, protect cartilage, improve general health and improve performance.
Patented extraction and drying processes isolate and activate the compound GOPO® which has scientifically proven anti-inflammatory and antioxidative properties. GOPO® works by stopping excess white blood cells from gathering around inflamed tissue, thereby helping to break the cycle of inflammation and protect cartilage. Rosehip products that do not contain GOPO® have not been shown to have anti-inflammatory properties.
How long will 150g last?
Dosage depends on your dog's weight
To see results, your dog needs at least 3 weeks on the loading dose
Your first 150g tub:
Less than 15kg = 39 days
15kg to 30kg = 15 days*
Over 30kg = 10 days*
*150g is not enough for dogs over 15kg!
Ongoing maintenance dose: 
Less than 15kg = 60 days
15kg to 30kg = 30 days
Over 30kg = 20 days
Rose-Hip Vital® Canine is used for:
Joint pain and Joint mobility, Prevention of joint problems, Osteoarthritis, Degenerative joint disease, Cartilage protection, Immune system support, General health & wellbeing, Recovery after exercise and Coat quality
Related Products
---