Starmark pickle pocket treat dispenser
---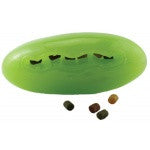 Starmark - Pickle Pocket - Treat Dispenser
Holds Treats or Kibble
Works great with Starmark Breath Freshening Mints or Pro-Training Treats
Made of Virtually Indestructible Material
Stronger than rubber and great for powerful chewers! Free of latex, vinyl, and phthalates.Provides Hours of Challenging Play
Pickle Pocket system encourages play which helps reduce anxietyand boredom behaviors.
Fun for Retrieval. Throws, bounces erratically, and floats in water!